Aaron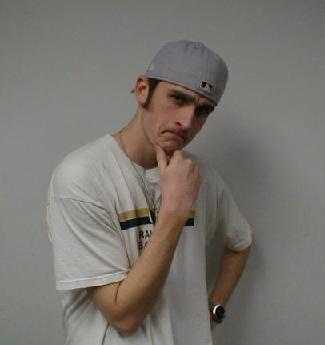 Full Name: Aaron Casey Hollon
DOB: 12/21/83 dude
Place of Birth: Tulsa dude
Height: 6'1" dude
Weight: 160 dude
Eye Color: Brown dude
Instrument in Band: Trombone dude
Years Studying Instrument: 6 dude
Other Instruments skilled in: Baritone, Tuba, Trumpet, and the Kazoo! dude!
Major Musical Influence: Rod Clark (OBD) dude!
Favorite Bands: FIF dude!
Favorite Songs by Local Bands: Magnolia (by the Muddy Chucks) dude!
Favorite Movie: Saving Private Ryan dude!
Favorite TV Show: The Simpsons dude!
Favorite Movie Quote: "I'll Be Right Back" (Scream)
Favorite TV Quote: "No Soup For You" (Seinfield)
Favorite Website: My computer is evil dude!
Favorite Super Hero: The Tick dude!
Favorite Bible Verse: "Genesis 1:1, because that's how we all got here" (dude)
(Anything Else): I want to thank all my friends, my Mom and Dad, My Lord and Saviour Jesus Christ for through him all things are possible. I also want to thank Kelly for being such a sweet-heart. Thanx for putting up with me. Oh yeah... See ya at our shows, dude.